The Ophthalmology Diagnostic & Surgical Center Hellenic EYESURGERY S.A. was created to offer the best possible medical services aiming to improve and restore the patient's vision as well as the diagnosis and treatment of all ophthalmic diseases. It is a technologically advanced unit applying all the latest diagnostic methods and surgical techniques. A group of ophthalmologists and a large number of collaborators work in the center to apply the most state-of-the-art diagnostic methods, surgical techniques and laser techniques, through specialization, continuous education and care for the patients, covering every aspect of ophthalmology.
Hellenic EYESURGERY S.A. was created by a team of ophthalmologists who, during their training, realized the need to further specialization in order to better treat all conditions-pathologies of the eye in an area of specialty which has progressed rapidly both scientifically and technologically in recent years.
Consequently, Hellenic EYESURGERY S.A. differs from all other diagnostic and therapeutic centers operating today, in the sense that it is structured and functions based on the model of ophthalmic subspecialty. For the first time in Greece, it is in this center that each eye condition is treated by the physician who is specialized in it. The goal of subspecialty in ophthalmology has become a reality, since the center's ophthalmologists have completed their subspecialization by working in the best centers of America (Harvard Medical School, Wills Eye Hospital, Tulane University).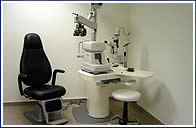 In Hellenic EYESURGERY S.A.'s website, you can find information on the centers, the operating departments and the state-of-the-art equipment, patient information, as well as information on the scientific work of the doctors. You can, also, read each physician's curriculum vitae and profile, and find several links regarding Ophthalmology around the world.
Our mission...
... to offer the best possible care for every condition by an ultraspecialized physician. In Hellenic EYESURGERY S.A., every patient is treated on a personal basis as a separate human being, without being taken advantage of financially.
---
Copyright Hellenic Eyesurgery S.A. 2003-2008 - Terms of Use - Website created & maintained by Theratron